E-Store
Solaris Inks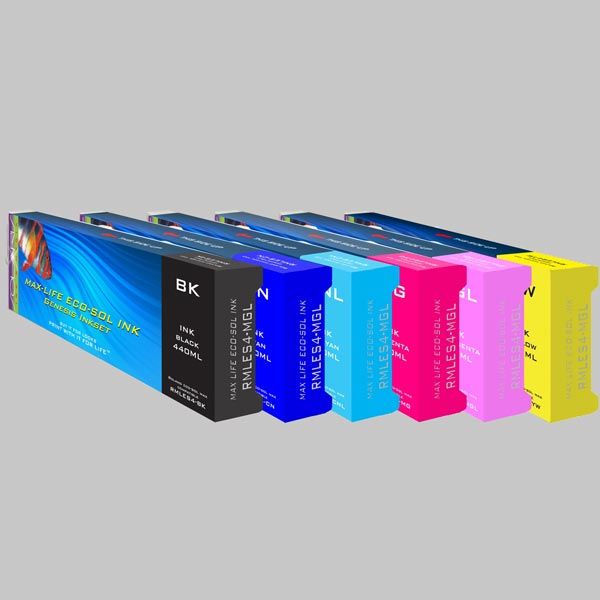 Solaris Eco-Solvent Max-Life Inks
Solaris Eco-Sol Max Life Ink by LiqueColor is a remarkable innovation in ink technology. Building on LiqueColor's Solaris Genesis Eco-solvent ink-set, high-density Solaris Max Life ink dries fast and offers a wide color gamut, rugged scratch resistance and broad support for uncoated and coated media all at a low cost per square foot 40% below the OEM Roland product.
LiqueColor's Solaris Max Life Ink is virtually odorless and does not require any special ventilation or environmental equipment.

Features & Benefits:
- Exceptional imaging at high production speeds
- Virtually odorless and user friendly
- Fast drying and scratch resistant for fast, easy finishing and handling
- Wide color gamut for deep reds, blues and greens.
- Aggressively adheres to a range of affordable uncoated media
- Durability up to three years outdoors without lamination

- Your choice of ink configurations (varies by model)
black
cyan
light cyan
light magenta
magenta
yellow
Formulated specifically for SOLJET PRO III, VersaArt, VersaCAMM VS, VersaCAMM SP, and VersaStudio BN-20 inkjets.
Works in the following Roland printer models:
Roland BN-20 / RE-640 / RS-540 / RS-640 / SC-500 / SC-540 / SC-545EX / SJ-1000 / SJ-1045EX / SJ-500 / SJ-540 / SJ-545EX / SJ-600 / SJ-640 / SJ-645EX / SJ-740 / SJ-745EX / SP-300 / SP-300i / SP-300V / SP-540 / SP-540i / SP-540V / SP-540VVKIT / VS-300 / VS-420 / VS-540 / VS-640 / VP-300 / VP-300i / VP-300V / VP-540 / VP-540i / VP-540V / VP-540VKIT / XC-540 / XC-540MT / XJ-540 / XJ-640 / XJ-740